Hey I'm Jennifer. And this is Paper Paragon. I'm the newest invitation studio in Minneapolis St. Paul, MN. Just launched in Summer 2016!
Avant garde design
I love designing wedding invitations that are avant garde, exclusive, and chic. My work is characterized by sophisticated color palettes, clean typography, and refined textures. I love capturing the theme and ambience of a wedding using non-traditional shapes like circles, squares, triangles, and hexagons.
Preparing for My Own Wedding
My own wedding and graphic design background is what inspired me to design invitations as a career. My husband and I got married in September 2013. We had a lot of fun creating and envisioning our day. Our theme was London in the early 1900s (think Sherlock Holmes and old libraries) There were lots of candles, books, lanterns, and oil lamps. Our ceremony was in a cozy amphitheater surrounded by trees tucked inside a state park. We went across the river for our reception at an old train station. Everything tied together so well and really made you feel like you were in a day from another age. This fall we will be celebrating our three-year wedding anniversary and being together for ten years!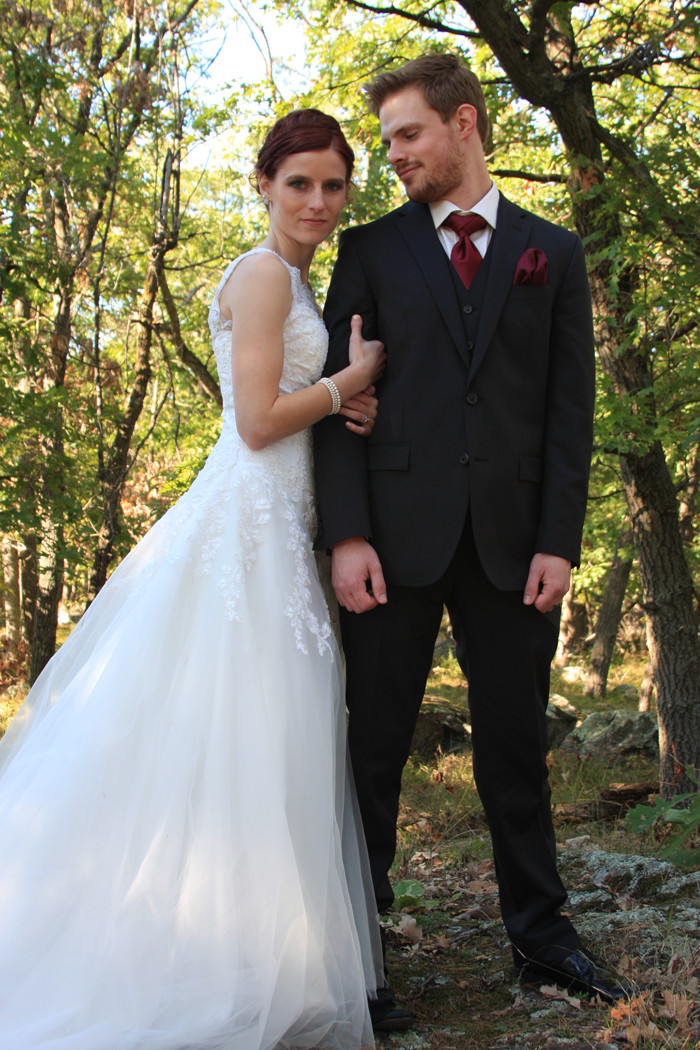 This inspired me
Designing a totally custom wedding first-hand set an interest in me to design for other weddings. Each wedding has a different couple with their personalities, colors, venue, and theme. The creative ideas are endless! That's what I love and look forward to with each invitation that I design. I love the new ideas that come with every wedding.
I'm also a chocoholic
I really enjoy baking anything... with chocolate. Dark chocolate chips are kept on hand and I keep chocolate in my winter coat for emergencies.
Planning your wedding? I would love to meet you and hear your vision for your wedding. Let's Meet!